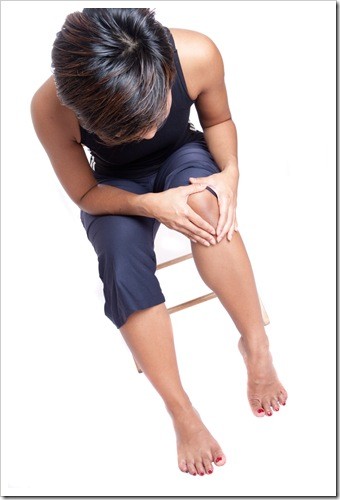 Joint injections are commonly performed with cortisone to reduce the inflammation cause by an injury (meniscal tear, ligament injury, bursa inflammation, arthritis).  This is a treatment that is very effective but has its limitations.  There are other treatments such as viscosupplements currently available that are effective without the same limitations.  In certain cases, there is also the possibility of regenerating the damaged tissue using a patient's own stem cells.
Joint injections with "viscosupplements"
There are newer drugs, so-called viscosupplements (or joint-lubricants), that are used to help someone with the most common cause of knee pain, osteoarthritis, who still has significant pain after trying exercise, lifestyle modifications, and several different anti-inflammatory drugs over time. These drugs are substitutes for hyaluronic acid, a naturally occurring lubricant in your joints. These drugs are given in a series of shots three to five injections done one week apart. In general, they're about as effective as standard anti-inflammatory drugs in providing pain relief. They don't irritate the stomach, and the benefits of one series of injections lasts about 6 months. It's not clear exactly how these new drugs reduce pain. Some researchers think they provide nutrition for your cartilage; others think they reduce pain simply by providing lubrication; and, still another theory is that they somehow reduce inflammation in the joint. However they work, studies indicate that between 56% and 87% of people feel better after one or two series of injections.
Hyalgan – "a lubricant and a shock absorber in the joint…"
HYALGAN is a sterile mixture that is made up mostly of a natural, highly purified sodium hyaluronate. Hyaluronate is a natural chemical found in the body and it is present in a particularly high amount in joint tissues and in the fluid that fills the joins. The body's own hyaluronate acts like a lubricant and a shock absorber in the joint, and it is needed for the joint to work properly. In osteoarthritis, there may not be enough hyaluronate, and there may be a change in the quality of the hyaluronate in joint fluid and tissues. HYALGAN is given in a shot directly into your knee.
WHAT IS HYALGAN USED FOR?
HYALGAN is used to relieve knee pain due to osteoarthritis. It is used for patients who do not get adequate relief from simple painkillers or from exercise and physical therapy.
WHAT ARE THE BENEFITS OF HYALGAN?
A study involving 495 patients with knee pain due to osteoarthritis was performed in the United States. This study investigated the safety and effectiveness of HYALGAN. The patients were placed in one of three groups. One group was given an injection of HYALGAN into one knee joint once a week for 5 weeks. The second group was given an injection of salt water into one knee joint once a week for 5 weeks. The third group received two naproxen tablets every day for 6 months. Joint pain was measured in all patients throughout the 6 months. Patients with osteoarthritic knee joint pain, who did not get relief from simple painkillers or from exercise and physical therapy, got pain relief from the HYALGAN injections into the knee joint. Pain relief was not seen in some patients until after the fifth injection.
WHAT OTHER TREATMENTS ARE AVAILABLE FOR OSTEOARTHRITIS?
If you have osteoarthritis, there are several things you can do that do not involve HYALGAN injections. These include the following:
Non-drug treatments
Avoiding activities that cause excess pain in your joints
ExercisePhysical therapy
Drug therapy
Painkillers such as acetaminophen and narcotics
Drugs that reduce inflammation such as aspirin, and other nonsteroidal anti-inflammatory agents (NSAIDs) such as ibuprofen and naproxen.
Corticosteroids that are injected directly into the joint.
ARE THERE ANY REASONS WHY I SHOULD NOT TAKE HYALGAN?
You should not take this product if you have had any previous allergic reaction to HYALGAN or similar material, i.e., hyaluronate products.
You should not have an injection into the knee if you have infections or skin diseases around the injection site.
THINGS YOU SHOULD KNOW ABOUT HYALGAN
HYALGAN is only for injection performed by a qualified physician.onsult your physician if you are allergic to products from birds such as feathers, eggs, and poultry.
Immediately after you have the injection and for the next 48 hours, you may need to avoid activities such as jogging, tennis, heavy lifting, or standing on your feet for a long time.
Although results of studies in rats and rabbits with HYALGAN did not suggest that it could affect your ability to have children or cause harm to your child if you are pregnant or nursing. You should tell your doctor if you think you are pregnant, or if you are nursing a child.
The safety and effectiveness of HYALGAN have not been shown in children.
HOW IS HYALGAN GIVEN?
Your doctor will give you an injection of HYALGAN (20mg/2 ml) into your knee. A treatment cycle consists of five injections given at weekly intervals. Some patients may experience benefit with three injections given at weekly intervals. This has been noted in studies reported in the literature in which patients treated with three injections were followed for 60 days.
WHAT TO EXPECT FROM THE TREATMENT
How soon will I experience relief?
Pain relief varies from patient to patient and may depend on the severity of the pain. Some patients may experience relief within a week of the first injection. In clinical studies, the majority of patients noticed a difference within one week following the third injection; however, pain relief was not seen in some patients until after the fifth injection.
How long will the result last?
The majority of patients experience months of pain relief. Results vary from patient to patient. In a clinical study in which patients receive 5 weekly injection of HYALGAN was shown to effectively relieve pain at 26 weeks. Since patients were not followed beyond 26 weeks, it is unknown how long pain relief continued. There are published clinical reports of some patients experiencing benefit beyond 26 weeks.
Does the injection hurt?
As with any injections, you may feel temporary minor pain at the injection site. To help make your HYALGAN injection as comfortable as possible, your doctor may inject a local anesthetic beforehand. Dr. Canty performs all injections with X-ray or Ultrasound guidance which will allow the medication to be placed more accurately and with less pain than if it were done without guidance.
What are the common side effects associated with HYALGAN therapy?
Again, as with any injection, you may experience some local pain and/or swelling. The most common side effects of HYALGNA therapy are injection-site pain, swelling, heat and/or redness, rash, itching, or bruising around the joint. Any such effects are generally mild and usually do not last long.
HAYLAGAN has been in clinical use worldwide for 18 years, and more than 18 million injections have been given. Reported cases of serious allergic reactions with HYALGAN have been very rare.
Are there any reasons why I shouldn't take HYALGAN?
You should not take this product if you have had any previous allergic reaction to HYALGAN or other medications containing hyaluronan. You should not have an injection into the knee if you have an infection or skin disease in the area of the injection site.
Can I continue taking my other medications if I receive HYALGAN?
You should talk with your doctor about your specific medications; however, HYALGAN is not known to interact with drugs taken orally.
What if I need another course of therapy?
Osteoarthritis cannot be cured, an if pain returns, you may want to discuss another series of HYALGAN treatment with your doctor. Repeat treatment was shown to be well tolerated in a 30-month study in which 75 patients received a 5-injection course of HYALGAN every 6 months.


For Wellness,

Dr. Connor McCormick